Walk for Wilai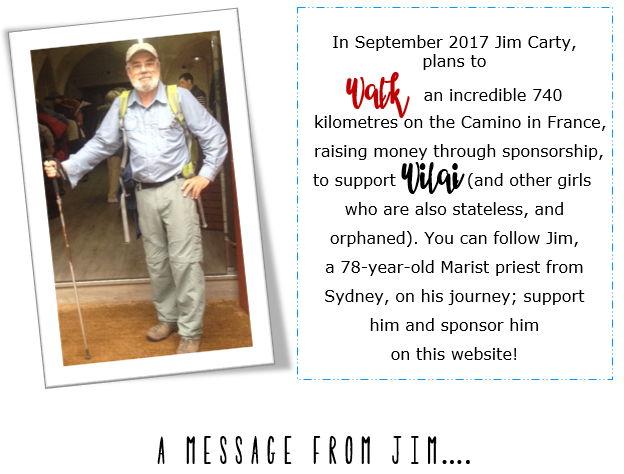 Four years ago, I walked the Camino in Spain. 800 kilometres in 36 days!

Why? To take my life for a walk, and reflect on the many blessings gratuitously granted during 74 years of living and 50 years of priesthood, but especially to give thanks for the blessings, love, generosity, and sacrifice received from my devoted parents.
In September, I will walk another Camino in France (see map). This time I will walk for Wilai (and many like her), a young girl living in Thailand who is parentless, homeless and stateless and bereft of all those gifts I have enjoyed and took for granted.
Will you walk with me along the way by sponsoring me to help provide Wilai (and other stateless children), with a future that offers hope, love, care and a place she can call home?

The distance is 740 kilometres!
At 78 years old, there are no guarantees that I will complete the journey but I'll make a start and blog along the way. A link to my blog will be available here, once the walk begins.
All sponsorship money and donations will be collected by the Wilai Foundation Ltd. a registered Australian charity of which I am a Founding Member and Director.
You can read more about us here: www.wilaifoundation.org.au
The funds raised by my walk and your generous sponsorship willl be used to directly benefit Wilai and other stateless children.
Thank you for your generous support. I look forward to sharing my walk with you and together we can BE the Village for Wilai, after all it does take a Village to raise a child!
Fr Jim